Brand:
- The Pedestal line offers a range of fixed and adjustable supports to ensure a simple and versatile installation of outdoor raised flooring.
- Simple, already assembled and ready for installation.
- Strong, resistant to exceptional loads, beyond all regulations.
- Beautiful, even the design has been studied in detail.
- Compatible heads: Ø 110 mm head, XL Ø 150 mm head , head for aluminium joist, criss-cross head for aluminium joists, universal head for wooden joist.
- With the Pedestal Prime® supports you do not need additional rings, tubes or extensions: the extension is already integrated. Three different sizes to adapt perfectly to the three bases and allow to cover all heights from 30 mm to 420 mm. Its ergonomic shape also makes it easy to adjust.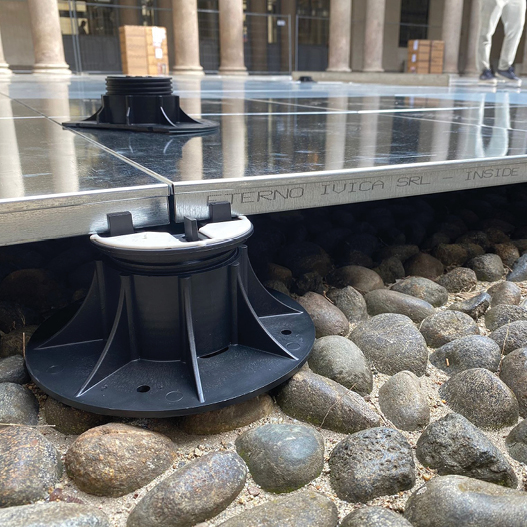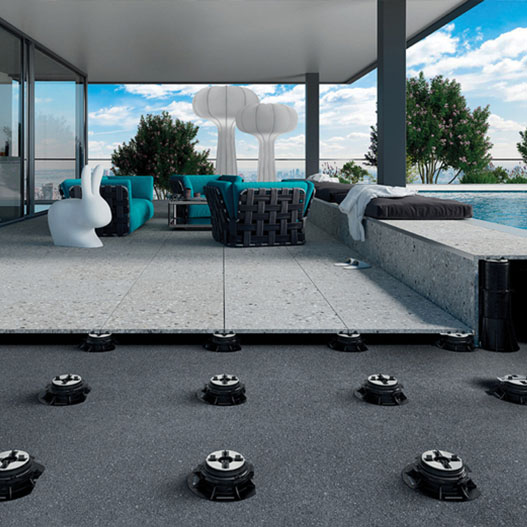 Adjustable Self-Leveling Support Eterno SE - The first one with a self leveling head It was the first. And it's still the only one. The Adjustable Self-Leveling Support Eterno "SE" adjustable support with a self leveling head was the first of a long series of accessories for external elevated floors. It's a raised flooring accessory that combines superb technical features and exceptional aesthetics with maximum easiness of installation.
The Adjustable Self-Leveling Support Eterno "SE" has come to be recognized as the market's most exclusive solution to deal with sloping installation surfaces. In this regard, the product is capable of providing exceptional results thanks to its tilting movement, which is capable of compensating slopes up to 5%.
The adjustment is performed using a regulation key, which can be applied from above once the flooring has been installed and guarantees the precision alignment of the entire floor surface. This unrivaled product also counts numerous additional advantages, which are enjoyed every day all around the world by architects, builders and installers.
Grid Raised Floor (GRF) solution from Eterno Ivica is a revolutionary laying system that combines the stability of the pedestal support with the flexibility and security of the modular grids for laying slabs and other finishes.
The GRF with its unique structure offers numerous advantages for exterior raise floors projects. It allows laying different flooring elements (artificial turf, porcelain stoneware, marble and many others).