Brand:
Ecophon contributes to good indoor environments for working, healing and learning. We do this by developing, manufacturing and delivering acoustic products and systems designed around the natural evolution of human hearing–replicating the outdoor sound experience indoors. Range:
- Ecophon Focus™ is our most comprehensive system family and supports a range of opportunities through different edge designs, forms, levels and installation options. Absorption class A.
- Ecophon Master™ is at the forefront of acoustic innovation and unrivalled in meeting acoustically challenging environments. The result provides excellent sound absorption and speech intelligibility. Absorption class A.
- Ecophon Hygiene™ is proven performer in several hygienically and clinically demanding environments. Ecophon Hygiene and the complete systems fulfil the toughest requirements. Absorption class A or B depending on solution.
- Ecophon Gedina™ is a classic and excellent choice when functional requirements are high and design possibilities are limited. Gedina meets standard functional demands. Absorption class A.
- Ecophon Advantage™ meets essential functional demands and provides effortless handling and easy installation. The visible surface is a high quality, batch-painted glass tissue in white with the tile back covered with glass tissue. Absorption class A.
- Ecophon Sombra™ is a well proven acoustic solution, that creates just the right sound environment for social venues such as bars and night clubs. The Sombra family is available in matte black, batch-painted glass tissue. Absorption class A.
- Ecophon Super G has different systems depending on room activity and impact resistant requirements. The surface is developed to withstand impact in sport halls and similar environments. Absorption class A.
- Ecophon Combison™ Uno A has an exposed grid system with demountable tiles. For use as a sound absorbing ceiling and for sound insulation between rooms. Absorption class D.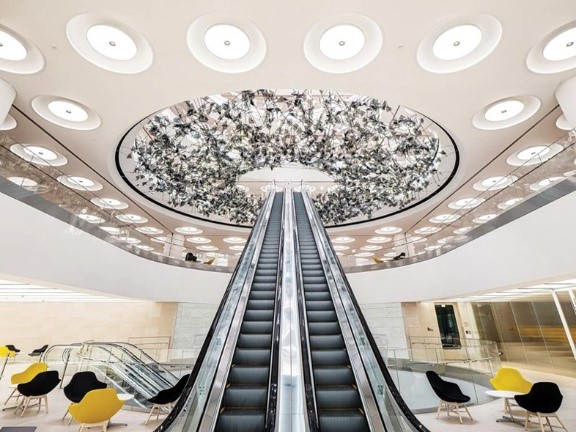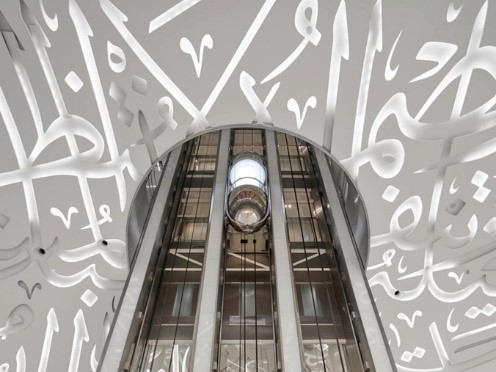 Brand:
Rockfon stone wool panels are known for their design, aesthetics and ease of installation coupled with their key performance features of superior fire safety and humidity resistance, optimum light reflection and acoustic control. These qualities ensure that Rockfon products are among the highestperforming, most cost-effective to install on the market.
Rockfon specialty metal ceilings are designed and fabricated to exact specifications and the highest manufacturing standards. They are available in a wide-range of shapes, sizes and finishes, and exist in standard and custom configurations.