Brand:
Rockfon is a leading provider of acoustic stone wool and metal ceiling solutions and suspension systems. Rockfon complete ceiling systems are a fast and simple way to create beautiful, comfortable spaces. Easy to install and durable, they protect people from noise and the spread of fire, while making a constructive contribution toward a sustainable future. Rockfon develops acoustic ceiling solutions directly addressing important indoor environment considerations and requirements by balancing high technical performance demands with modern design trends.
Rockfon stone wool panels are known for their design, aesthetics and ease of installation coupled with their key performance features of superior fire safety and humidity resistance, optimum light reflection and acoustic control. These qualities ensure that Rockfon products are among the highest-performing, most cost-effective and less labor intensive to install on the market. Rockfon specialty metal ceilings are designed and fabricated to exact specifications and the highest manufacturing standards in local production facilities. They are available in a wide-range of shapes, sizes and finishes, and exist in standard and custom configurations.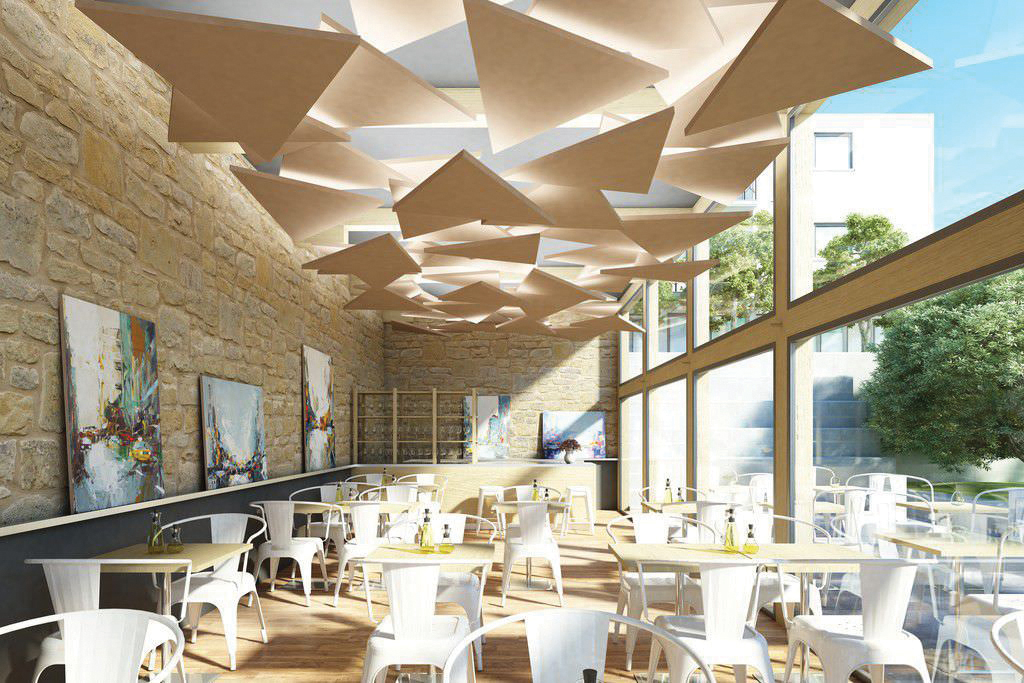 Performance Attributes of Rockfon Stone Wool Ceilings:
- Sound Absorption
- Fire Safety
- Light Reflectance
- Humidity Resistance
- Clean-ability
- Hygienic
- Quick & Easy Installation
Installation Benefits:
High quality results do not always require a lot of hard work. Rockfon ceiling tiles weigh less, are easy to cut with a standard utility knife, have a durable surface and edges and can even be installed before the building has been fully closed and finished. This speeds up the installation process and can contribute to the project remaining on time and on budget.
- Easy to Carry
- Easy to Cut
- No Acclimatization Necessary
- Integration of Services
Product Availability:
KSA, UAE, Bahrain, Kuwait, Oman, Lebanon, Egypt & Pakistan