BMI stands for innovative manufacturing technology of spirit levels designed for strenuous work. BMI ensures a long working life and high precision for your tasks apart from an appealing optical design. BMI Worldwide patented manufacturing processes ensure constant and consistent top quality.
Aluminum Ecoline
For cost-aware users. Robust, smooth aluminum profile, yellow powder coated (689 P-yellow).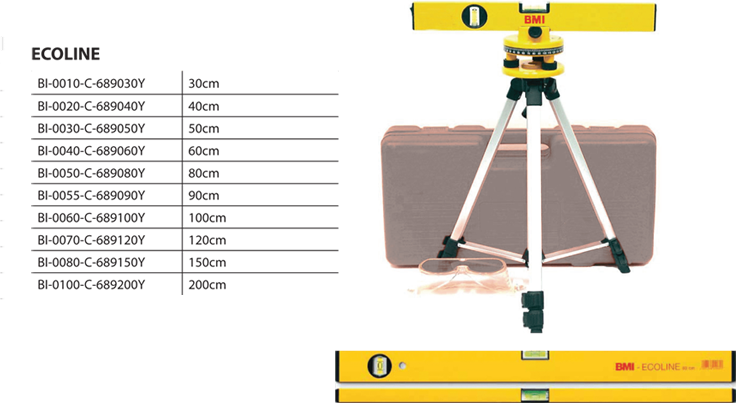 ---
690E/690ES/690EM/690P Eurostar
• Patented high-tech laser marked vials
• Laser-marked
• Good viewing of the vial owing to its magnifying effect
• 30 years BMI guarantee for vial durability
All round model suitable for every application; it is sturdy, easy to-grip and smooth aluminum profile.
Available in multiple designs:
- With 1 horizontal and 1 vertical vial; silver anodized (690 E)
- With 1 horizontal and 2 vertical vials, silver anodized (690 ES)
- With 1 horizontal and 1 vertical vial and powerful magnets; silver anodized (690 EM)
- With 1 horizontal and 1 vertical vial; yellow powder coated (690 P)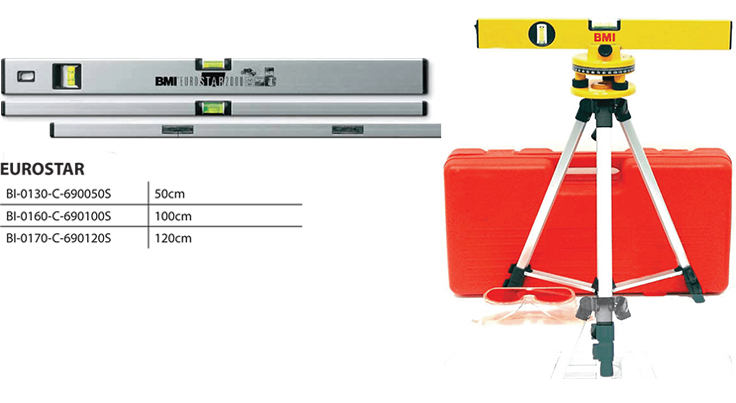 ---